Milan, April 3, 2018 – The Bahrain International Circuit introduces the 2018 medium compound to a grand prix weekend, nominated alongside the soft and supersoft, but this medium tyre is already familiar to the teams, as it's the same compound as the 2017 soft tyre. Also making its debut in Bahrain is the Pirelli Hot Laps programme, where Formula 1 and other well-known drivers will take to the track driving road-going supercars on P Zero road car tyres.
THE CIRCUIT FROM A TYRE POINT OF VIEW
• The grand prix gets underway in the late afternoon and finishes in the evening, meaning that track temperatures fall substantially as the race goes on, affecting tyre behaviour.
• Traction is a major factor in Bahrain, so drivers have to manage rear tyres in particular.
• It's the same nomination as last year for Bahrain, but the compounds are all a step softer.
• Most drivers did two stops last year, with a wide variety of different strategies.
• Medium and soft are mandatory sets for the race, with teams having to keep at least one set of each compound available on Sunday.
• Bahrain is one of three night races held this year, along with Singapore and Abu Dhabi.

MARIO ISOLA - HEAD OF CAR RACING
"Bahrain provides a very different challenge to Australia, but one of the things it has in common is that is quite a stop-start circuit characterised by longitudinal rather than lateral loads, which also means that it is rear-limited in particular. Because of the abrasive surface and also thermal degradation we would expect more than one pit stop for most drivers, especially as the entire tyre range is softer this year and Bahrain has produced a variety of interesting strategies in the past. The race schedule, with track temperatures that fall considerably during the evening, means that teams need to maximise their learning from the sessions that are most representative and draw the most effective conclusions from the unusual track conditions in the evening."
WHAT'S NEW?
• Pirelli launches its brand-new Pirelli Hot Laps programme in Bahrain, featuring some of the latest road cars from McLaren and Aston Martin on track in different sessions with some well-known drivers at the wheel.
• Formula 2 – the premier feeder series to Formula 1 – also gets underway in Bahrain, featuring a new car for this year as well as a new turbocharged engine.
• The circuit and infrastructure remains unchanged compared to last year.

THE TYRES NOMINATED THIS SEASON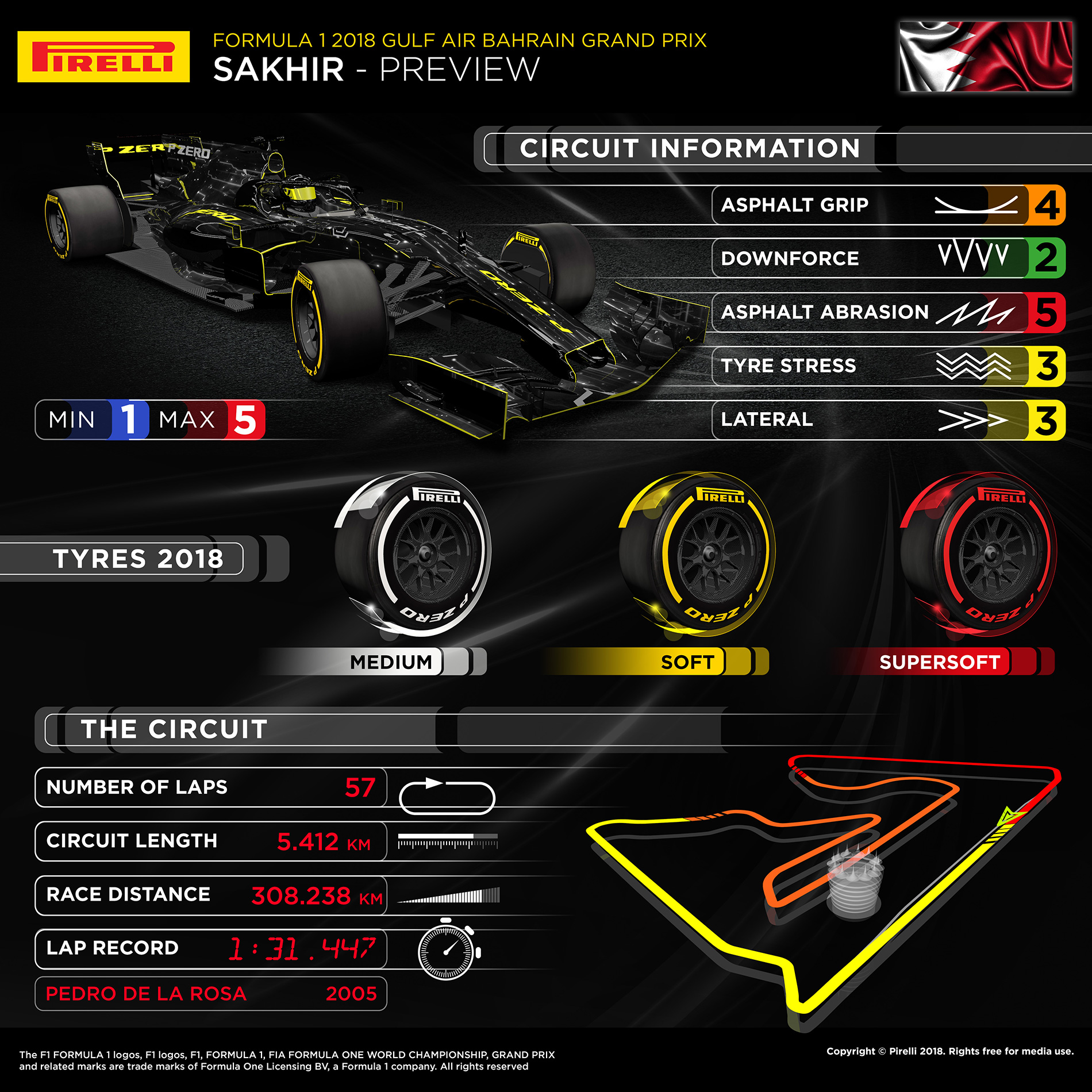 Read more
-->