Milan, August 21, 2017 – Pirelli will bring the P Zero Purple ultrasoft tyres for the first time to Spa-Francorchamps, together with the P Zero Red supersoft and P Zero Yellow soft. These are the three softest tyres in the range, selected together for the sixth time so far this year. But one famous variable in Spa is the weather, so there's also a strong chance of seeing the Cinturato Green intermediate or Cinturato Blue full wet at some point during the weekend. Spa is a favourite of nearly all the drivers, incorporating classic corners such as Eau Rouge and Pouhon that make it a real rollercoaster ride, as well as a true test of bravery.
THE THREE NOMINATED COMPOUNDS
THE CIRCUIT FROM A TYRE POINT OF VIEW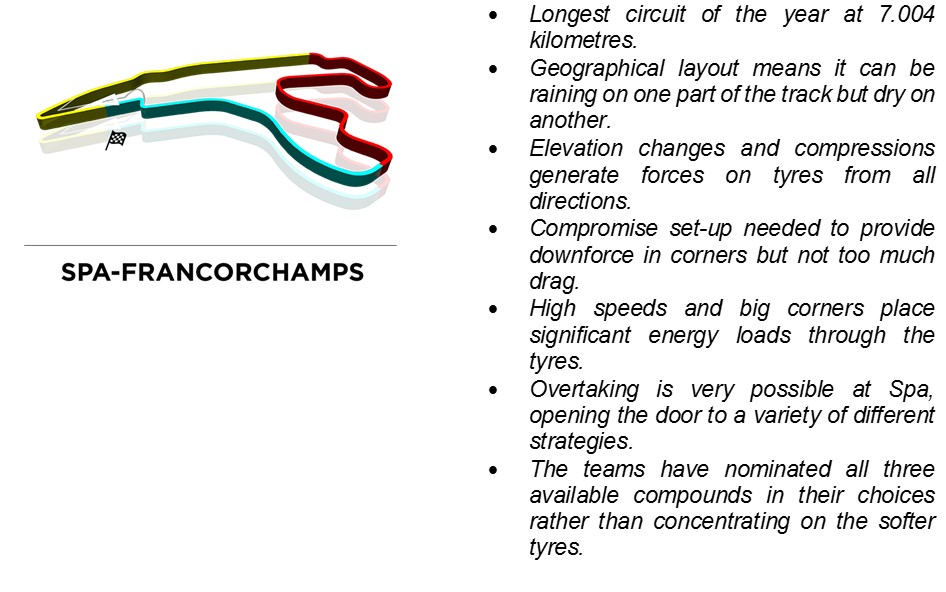 MARIO ISOLA - HEAD OF CAR RACING
"Pirelli was racing at Spa for the 24 Hours last month, which showcased everything this circuit is famous for: changeable weather, unpredictable competition, and heavy demands on the tyres. Now that we are bringing the ultrasoft tyre there for Formula 1, we would expect those demands to increase further with the latest generation of cars: two stops would appear to be a likely strategy but we will know more after the first free practice sessions. Working out the optimal race strategy is especially tricky at Spa as it has to be flexible: the possibility of rain, safety cars, or even a red flag – as we saw last year – means that teams often have to react to changing circumstances rather than follow a fixed plan".
WHAT'S NEW?
• The ultrasoft has never been seen in Belgium before, representing a more aggressive choice.
• Not much has happened in Formula 1 with the compulsory two-week factory shutdown. The last Pirelli 2018 tyre test concluded on August 4 with Ferrari in Barcelona, and it does not resume again until September 7-8 at Paul Ricard with Mercedes.
• Three lucky winners of a Pirelli competition for children aged 8-11 spent a week at Fernando Alonso's karting school in Asturias recently, learning the principles of safe driving and race craft through a course designed by Alonso himself.
• At the same time as the Belgian Grand Prix, Pirelli's European Rally Championship stars will be competing on a different type of asphalt at the Barum Czech Rally Zlin.
CIRCUIT DE SPA-FRANCORCHAMPS MINIMUM STARTING PRESSURES (SLICK)
THE TYRES NOMINATED THIS SEASON
Read more
-->