SEBASTIAN VETTEL TAKES POLE FOR FERRARI ON P ZERO PURPLE ULTRASOFT: THE COMMON COMPOUND ON QUALIFYING
WET FP3 SESSION MEANS THAT QUALIFYING
TAKES PLACE ON A DRYING TRACK
PIT STOP STRATEGY HARD TO PREDICT BECAUSE OF MIXED CONDITIONS.
ONE STOP EXPECTED: DETAILS DEPEND ON THE WEATHER
Hockenheim, July 21, 2018 – A day of mixed weather at Hockenheim added further question marks to a circuit that the teams aren't particularly familiar with, having last raced there in 2016 with a different specification of car and narrower tyres.
After hot conditions yesterday, rain this morning meant that track temperatures were considerably lower, both during a wet FP3 and a drying qualifying session. Nonetheless, conditions were still dry enough for slick tyres, with everyone running only the ultrasoft throughout Q1 and Q3.
During Q2, which was interrupted by a red flag with seven minutes to go, there were some strategic variations with Red Bull's Max Verstappen and McLaren's Fernando Alonso opting to run the soft tyre before the red flag.
In the end, they both set their fastest times on the quicker ultrasoft, meaning that all of the top 10 will start on this compound tomorrow, headed by Ferrari's Sebastian Vettel, whose pole time was more than three seconds faster than the last Hockenheim pole in 2016. As a result, he becomes the only man to have claimed the Pirelli Pole Position Award five times this year.
MARIO ISOLA - HEAD OF CAR RACING
"All the drivers embarked on today's qualifying session without the benefit of the representative data that is usually collected in FP3 on Saturday morning, due to the very wet conditions. Even though qualifying took place on drying asphalt, the top cars were still immediately on a pace that was faster than Friday's FP2 session, thanks also to asphalt temperatures that were more than 20 degrees cooler than yesterday. In these conditions, the Purple ultrasoft tyres worked perfectly, resulting in a pole position time that was more than three seconds faster than the last pole at Hockenheim set two years ago: a notable figure, given that this is quite a short lap. Strategy tomorrow will depend somewhat on the degradation of the ultrasoft in the specific weather conditions for the race, but it should be a one-stopper for everyone. In any case, all three compounds look to be viable options for the grand prix"
HOW THE TYRES BEHAVED TODAY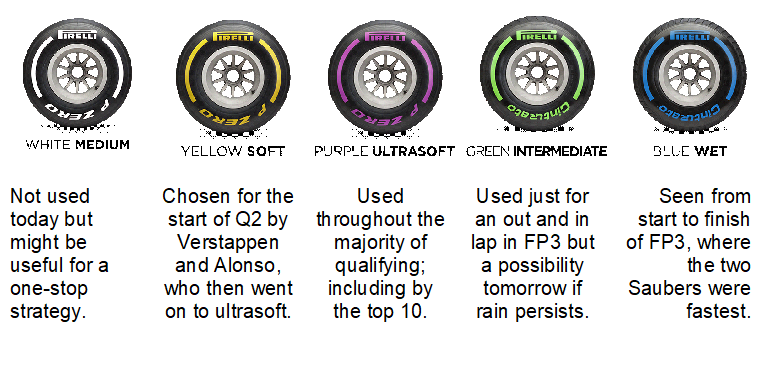 FREE PRACTICE 3 – TOP 3 TIMES
MOST LAPS BY COMPOUND SO FAR
BEST TIME BY COMPOUND SO FAR
Read more
-->