ONE-STOP SOFT-ULTRASOFT STRATEGY HELPS LEWIS HAMILTON
GIVE MERCEDES A RAIN-AFFECTED WIN FROM 14TH ON THE GRID
RAIN PROVIDES WIDE VARIETY OF STRATEGIES WITH ALL THREE SLICK TYRES SEEN ON TRACK, AS WELL AS INTERMEDIATE AND WET TYRES
RED BULL'S MAX VERSTAPPEN FINISHES FOURTH WITH THREE PIT STOPS
Hockenheim, July 22, 2018 – The weather was pivotal to the German Grand Prix, with rain in the closing stages of the race making strategies almost impossible to predict. Despite the intensity of the rain, Mercedes driver Lewis Hamilton was able to win with a one-stop soft-ultrasoft strategy, setting a rapid pace even on slick tyres.
A late safety car also affected the race, with Hamilton the only driver in the top six to stop only once, following a high-pressure finale in which teams tried to read the constantly-evolving grip levels. A number of drivers alternated between slick and intermediate tyres; one also used the full wets. But the final 10-lap sprint after the safety car came in was run with all the leaders on the ultrasoft, on a drying track.
MARIO ISOLA - HEAD OF CAR RACING
"The weather conditions provided an extremely dramatic and unpredictable race. Teams had to think on their feet to counteract the constantly-changing circumstances, with only one sector of the track affected by rain while the other two remained dry. This obviously provided a very big challenge, with the ultrasoft chosen for the final stint, as this compound worked well in the mixed conditions. The six different strategies seen in the top 10 underline the difficulty of identifying the right tactics under the demanding conditions, but it's notable that despite the rain only four of the top 10 finishers used the intermediate tyres."
LONGEST STINT OF THE RACE
TRUTHOMETER
Even with the rain in the last third of the race, Lewis Hamilton won using only one pit stop (as we expected for a dry race) but using an alternative soft-ultrasoft strategy to try and make up places from 14th on the grid. Hamilton made his sole stop on lap 42. Only four of the top 10 stopped twice.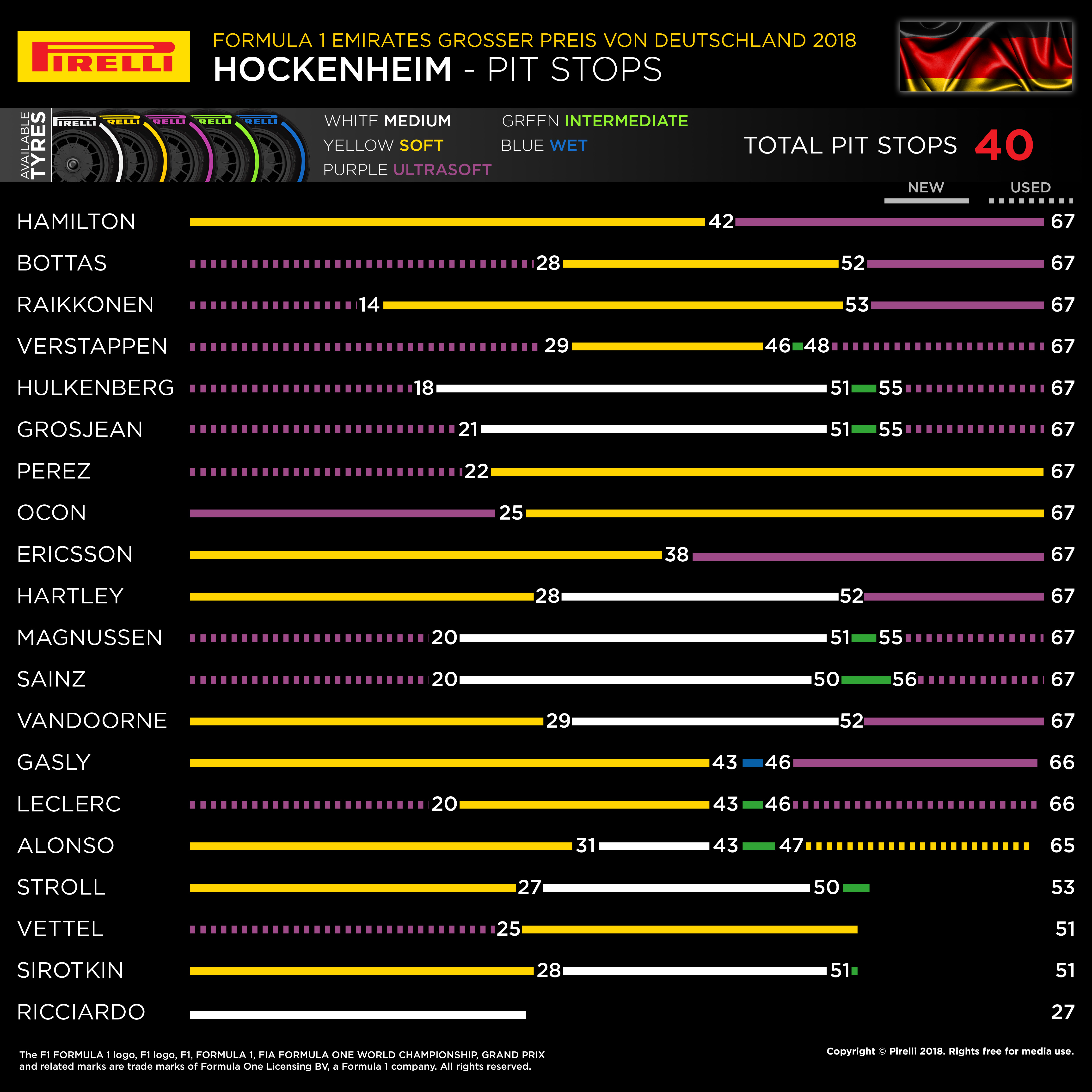 Read more
-->