THE THREE NOMINATED COMPOUNDS
THE CIRCUIT FROM A TYRE POINT OF VIEW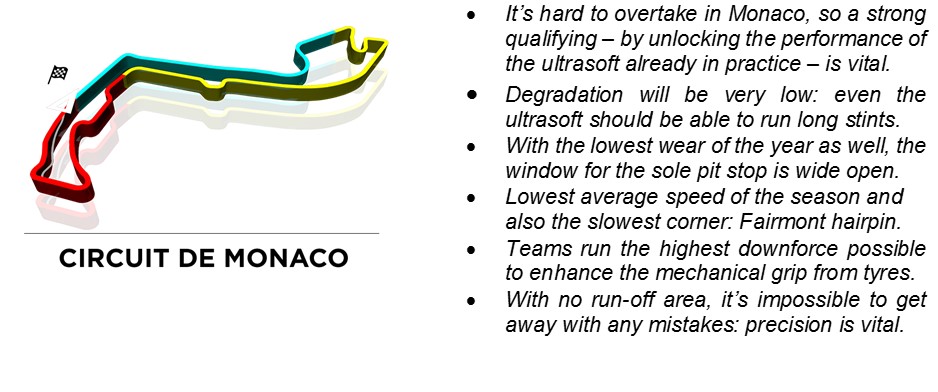 MARIO ISOLA - HEAD OF CAR RACING
"The three softest compounds are the obvious choice for Monaco, but there is still plenty of scope for strategic variation, because wear and degradation is so low that the teams can more or less choose whenever they would like to make their single pit stop from ultrasoft to supersoft, which should be the standard choice for the race. This is the first grand prix that the drivers have been able to select their own tyre allocations, and as expected the nominations have overwhelmingly favoured the ultrasoft. This is the tyre that will be used the most in both qualifying and the race."
WHAT'S NEW?
• Some teams are introducing further upgrade packages as well as specific parts for Monaco, but overall performance is not always the deciding factor in the Principality.
• Former Monaco winner Jenson Button returns to Formula 1 with McLaren for the first time since last year, deputising for Fernando Alonso, who is competing in the Indy 500.
• As is traditional in Monaco, there is no F1 track action on Friday, with free practice instead taking place on Thursday.
MONACO MINIMUM STARTING PRESSURES (SLICKS)
THE TYRES NOMINATED THIS SEASON
Read more
-->