Milan, September 11, 2017 – Following one of the season's most straightforward one-stop races in terms of strategy, at Monza, Formula 1 now heads to one of the most complex tactical races of the year, around the illuminated streets of Singapore. The three softest tyres in the P Zero range – soft, supersoft, and ultrasoft – have once again been brought to Singapore, just as was the case last year, ready for a 61-lap race that normally lasts close to the full two-hour limit, with more than one pit stop. Added to this unusual challenge are the usual considerations of a non-permanent street circuit: variable levels of low grip, street furniture such as manholes and white lines, as well as a high probability of safety cars: 100% so far in the track's nine-year history.
THE THREE NOMINATED COMPOUNDS

THE CIRCUIT FROM A TYRE POINT OF VIEW
MARIO ISOLA - HEAD OF CAR RACING
"Singapore is always one of the most exciting and unpredictable races of the year, in which pit stop strategy often plays a crucial role in the outcome: also because of the near certainty of a safety car at some point during the arduous two hours. Having said that, pole position has historically had a strong influence on the race win at Marina Bay, so qualifying will be crucial as well. In order to prepare, teams will have to pay particularly close attention to the free practice data as track temperature at night will evolve in quite a different way than it does at a conventional daytime race. Understanding this will be key to getting a good handle on wear and degradation rates, and so implementing an effective tyre strategy".
WHAT'S NEW?
• Team have generally favoured the ultrasoft tyre for Singapore, with the soft and supersoft being chosen in more modest quantities.
• There are no major modifications to the circuit layout and infrastructure this year.
• Pirelli's 2018 slick tyre prototype test programme continued at Paul Ricard last week, with Lewis Hamilton and Valtteri Bottas driving for Mercedes and fully completing the test schedule.
• Pirelli claimed its first overall FIA championship title of 2017 recently, thanks to Simone Faggioli who clinched the European Hillclimb Championship on P Zero tyres.
• Pirelli's star guest at Salon Privé in the United Kingdom was former F1 driver John Watson from Northern Ireland, well-known for his overtaking prowess on street circuits.
MARINA BAY STREET CIRCUIT MINIMUM STARTING PRESSURES (SLICKS)
THE TYRES NOMINATED THIS SEASON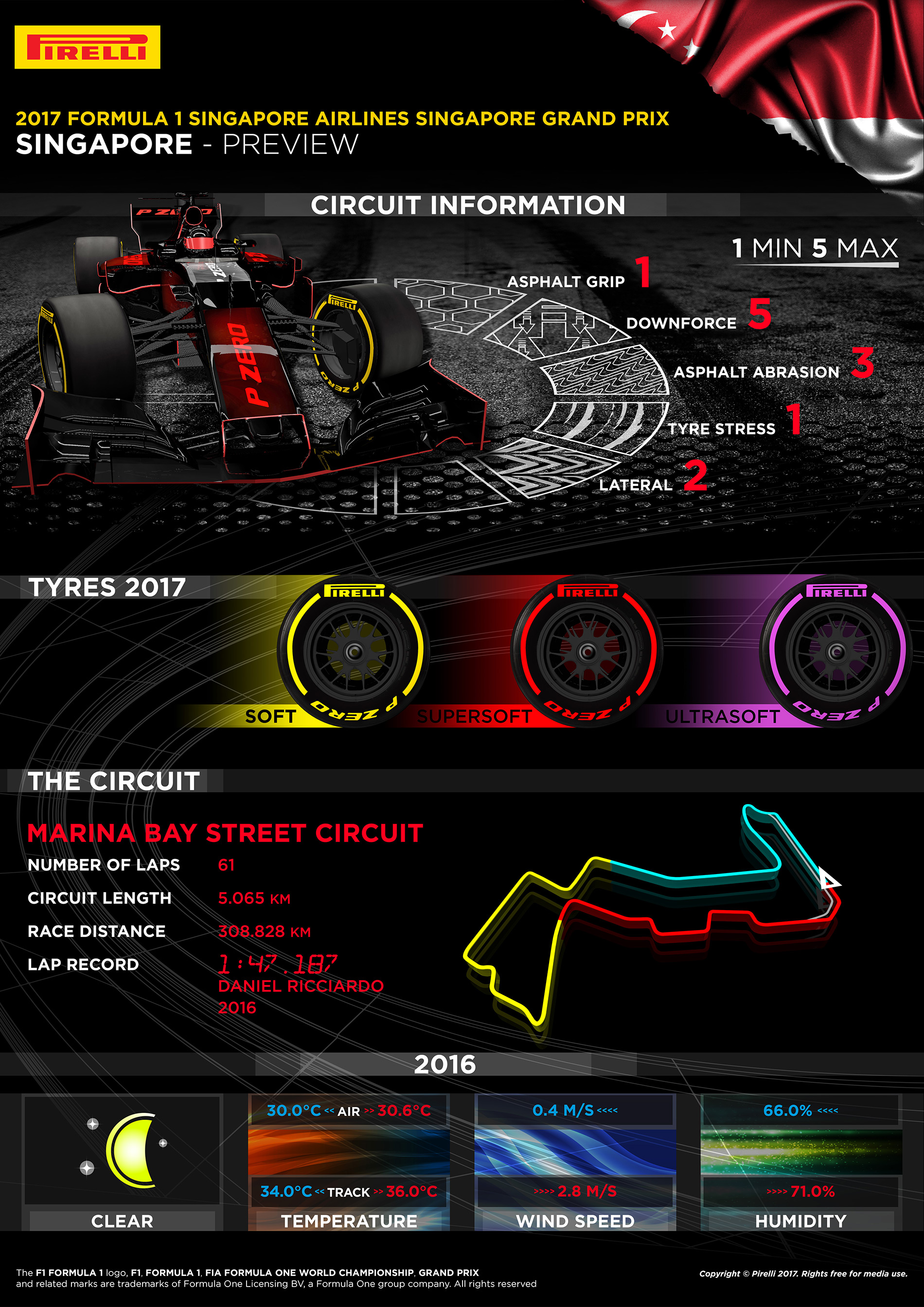 Read more
-->