FROM FIFTH ON THE GRID, LEWIS HAMILTON WINS A RACE AFFECTED BY RAIN AND SAFETY CARS, USING AN INTERMEDIATE-ULTRASOFT ONE-STOPPER
MIXTURE OF WET AND INTERMEDIATE TYRES AT THE START. ALL FIVE AVAILABLE TYRES USED DURING THE RACE WITH DIFFERENT STRATEGIES
FASTEST RACE LAP BREAKS MARINA BAY RECORD
WITH RAPID TRACK EVOLUTION IN THE SECOND HALF OF THE RACE
Singapore, September 17, 2017 – For the first time in its history, the Singapore Grand Prix was a wet race, with the top six starting on the intermediate tyre and a mixture of wets and intermediates further down the grid.
There were two safety car periods in the first half of the race, with the track still wet, which were used by some drivers to change from wet to intermediate tyres, while Daniel Ricciardo, who had started on intermediates, opted to change to a fresh set of intermediates. The Red Bull driver finished the grand prix second, behind the Mercedes of race winner Lewis Hamilton
The track eventually dried out after the restart, with the first drivers to change onto slicks being Haas's Kevin Magnussen and Williams's Felipe Massa on lap 24. Once the crossover point had been reached, all the frontrunners switched to slicks with most opting for the ultrasoft, although Toro Rosso's Carlos Sainz went for supersofts – claiming his best career result of fourth at the finish. Jolyon Palmer (Renault) and Stoffel Vandoorne (McLaren) also took their best results in Formula 1, while Hamilton set a new race lap record of 1m45.008s on the ultrasoft: more than two seconds faster than last year's fastest race lap.
MARIO ISOLA - HEAD OF CAR RACING
"The start of the race was unknown territory for everyone, with no wet weather running during the weekend up to now. This tactical uncertainty was compounded by the first of three safety cars, immediately after the start, meaning that strategy was mainly a question of reacting to changing circumstances on track. Intermediates were generally the best choice for the conditions during the first half of the race, although the full wets also performed strongly on a track that was only drying out very slowly. Once the surface was dry, track evolution happened quickly, with everyone apart from Carlos Sainz – who drove a fantastic race – opting to finish the grand prix on the ultrasoft.
LONGEST STINT OF THE RACE
TRUTHOMETER
Lewis Hamilton won the race using a one-stop strategy as predicted, but nobody expected that it would be from intermediate to ultrasoft, on lap 29. Ricciardo, behind him, chose to take on a fresh set of intermediates under the safety car, but also used a combination of intermediate and ultrasoft. The highest-placed driver to start the race on the full wet was Force India's Sergio Perez, who finished fifth.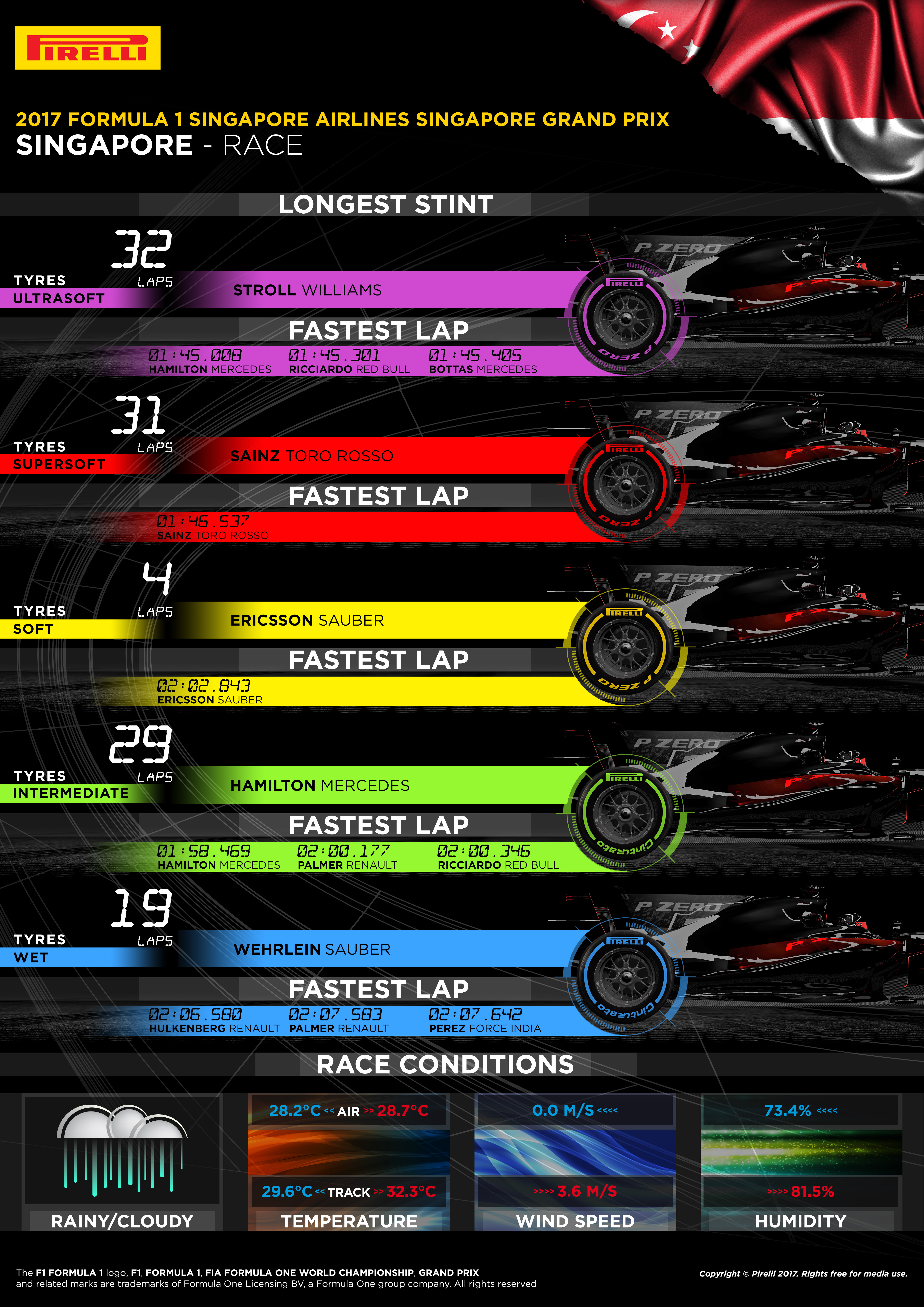 Read more
-->